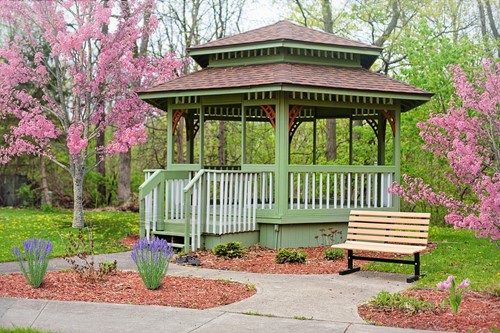 Backyard gazebos provide shade, shelter from rain and a place to enjoy fresh air with family and friends. Gazebos can also serve as a focal point for your yard and add a decorative touch to it. Building a backyard gazebo is a fairly simple project, although you can make it more complex by adding certain features or designs. If you're planning to build your own backyard gazebo, here are a few ideas to get you started.
Gazebo for Grilling
Gazebos are mostly used as a place to sit in the shade, but you can give yours another use. If you enjoy grilling, build a backyard gazebo that includes an area for your grill. This design allows you to use your grill even if it's raining, since you'll be in a covered area. You can keep your grill in this gazebo and store all of your grilling items there as well for easy access. Your grilling gazebo can also have built-in tabletops or counters on two sides. Place chairs on the other side of these counters outside your gazebo, so you can grill and eat in the same area.
Shade and Comfort
Most gazebos offer some shade from the sun, but it might not be enough for you depending on your comfort level. Consider building a backyard gazebo with a louvred roof, which provides added protection from the sun's heat and brightness. This roof design lets plenty of air flow through your gazebo while keeping the sun out for maximum comfort, even on hot days. You can add roll-up shades that can be moved from side to side as needed in order to block the sun.
Octagon Gazebo
Backyard gazebos can come in different shapes. While rectangular or square gazebos are simple to build, they don't have the same visual appeal as octagonal gazebos. These eight-sided gazebos have a quaint look that adds some charm to your backyard. While the building process might be a bit more complex for octagonal gazebos, you'll have a backyard gazebo with a distinctive, visually striking appearance. Keep in mind that these gazebos also typically offer more space compared to other gazebo shapes.
Iron Gazebo
Many gazebos are made of wood, but you can choose other materials for your DIY gazebo. For an elegant look, consider building a gazebo out of iron. These gazebos have a stylish, whimsical look that can enhance your yard. Just keep in mind that iron gazebos rarely have a solid roof and walls as wood gazebos do, so you might not have as much shade and shelter, depending on where you build your gazebo.