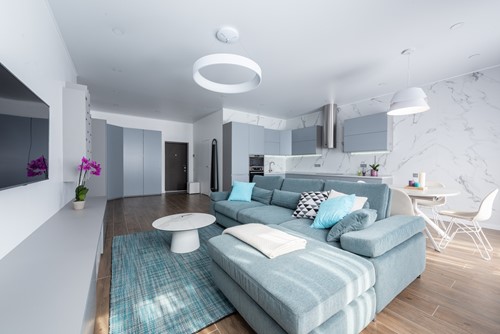 Decorating a home with an open floor plan can be a challenge. However, designers have learned the best ways to decorate open floor plan homes in ways that both celebrate and downplay the sense of open space. Here are some best practices for decorating for an open floor plan.
Repeat Colors & Patterns
One of the key elements of a successful open floor plan design is to keep the entire space connected with color and pattern. You can take the same color or color palette and use it throughout a variety of unique materials and textures to make all parts of the room feel cohesive.
One example would be the same gray color of your quartz countertops in an area rug of a similar shade. You can also carry color through using curtains and smaller decor alongside larger furniture pieces. The idea is not to be completely monochromatic, but to have a recognizable theme that pulls the entire design together and makes it feel like home.
Keep the Walls & Floors Consistent
Another way to decorate for an open floor plan is to keep the floor material and wall color the same for the entire space. It's tempting to section off smaller pieces of a large open layout using different flooring or painting in an accent color, but this can make the space feel disjointed rather than comfortable. There are plenty of other ways to create "zones" of your home with furniture placement and other decor. Using the same flooring and walls throughout will remind you it's still all the same home, making it that much more comfortable and inviting no matter the design style you choose.
Use Area Rugs for Definition
An easy and effective way to separate and define smaller spaces in an open floor plan is with area rugs. You can use area rugs as an anchor to an individual space and add furnishings on and around it to create a specific living zone. Try using an area rug to anchor a love seat and armchairs for a cozy sitting area or separate out the dining room from the rest of the space with a large rug under the table. Even the boldest rugs are relatively unobtrusive in the openness of this type of layout but still do a great job of defining specific areas for specific purposes. Whether it's eating, chatting or watching a movie, each part of your open floor plan will serve a unique purpose while still feeling cohesive.
Every home is different, even with similar layout styles. Open floor plans have been incredibly popular for decades for many reasons including flexibility. However, that flexibility can feel overwhelming if you don't know where to begin. In decorating an open floor plan home, stick to these best practices and you'll have an excellent starting point in creating the perfect design for your home.